Women's soccer ties, but No. 10 Williams advances in shootout
---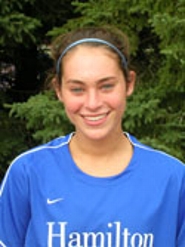 Williams College advanced past Hamilton College on penalty kicks in a NESCAC championship quarterfinal game at Williams' Cole Field on Oct. 29.

The teams were tied 1-1 after regulation and two sudden-victory overtime periods, and went to penalty kicks to determine which team would advance to the NESCAC championship semifinals on Saturday, Nov. 5. Williams won the shootout 5-4.

Halle Becker '15 scored the first goal of her collegiate career for Hamilton. Emi Birch '14 was credited with her team-high fourth assist, and Liza Gergenti '14 recorded nine saves.

Lilly Wellenbach '15 scored the Ephs' goal, and Haley Cook '14 was credited with the assist. Laura Wann '13 made four saves.

Williams (10-3-2 overall) took the first shot in the penalty shootout. Wellenbach stepped up and fired a shot into the top right corner of the net. Erica Skinner '12 responded with a goal for the Continentals.

Williams' Nicole Stenquist '12 and Sachi Siegelman '12, and Hamilton's Sarah Lasker '14 and Becker found the back of the net to make it 3-3 after three rounds.

Alex McInturf '15 shot next for Williams, and when Gergenti lunged to her right and made the save, Hamilton had the chance to take the lead. Wann was up to the task as she dove to save a shot by Emily Grund '15.

Cook was the fifth shooter for Williams, and she played the ball into the center of the net to make it 4-3. Alex Rimmer '13 needed to convert to keep the Continentals alive, and she found the top left corner of the net to make it 4-4.

The teams went to sudden-victory penalty kicks. Carla Nicasio '14 stepped up for the Ephs and fired into the center of the net. Alyssa DiCosmo '15 shot next for the Continentals, Wann made a diving save to her left and the Ephs moved on.

Hamilton (6-7-2) got on the board first in the 10th minute when Birch played the ball to Becker on the right side 25 yards from the goal. Becker turned, lofted a perfectly placed shot over the head of Wann and into the back of the net. Hamilton held a 1-0 halftime lead.

Williams pulled even in the 64th minute on a strong effort by Wellenbach. Cook played the ball to Wellenbach on the right side, and after dribbling past several Hamilton defenders, Wellenbach beat Gergenti to the far corner for her third goal of the year.

During the second overtime, Williams had several good chances to score. A shot that sailed just high and a strong save by Gergenti prevented the Ephs from finding the net. Williams held a 24-10 shot advantage, and took seven corner kicks to Hamilton's one. The Ephs shut out the Continentals 4-0 at home on Oct. 4.