Women's soccer beats Cortland in overtime
---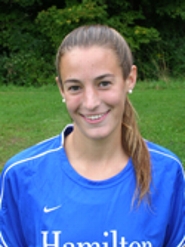 Alex Rimmer '13 scored 39 seconds into the second sudden-victory overtime period to lift Hamilton College to a 2-1 win against SUNY Cortland in a non-league women's soccer game at Hamilton's Love Field on Sept. 15.
Rimmer finished with two goals and leads the Continentals with four this year. She has scored all four in the last two games and upped her career total to 16. Hamilton (3-0-1 overall) remained unbeaten and improved to 50-8-7 at home since the start of 2002.
Cortland (2-2-2) lost for the first time since the Red Dragons' opener on Sept. 1 -- a 4-2 setback at home against nationally ranked No.4 William Smith College. Cortland and the Continentals have played three times, and the home team has won each time.
Jackie De Luise '12 gave the Red Dragons a 1-0 lead in the 14th minute with her second goal this year. Cait Reilly '14 picked up the assist. The goal was the first one allowed by Hamilton in 2010.
Rimmer tied the score less than five minutes later on a feed from Megan Cairns '12. The score remained knotted at 1-1 for the next 82 minutes, but both teams had an excellent chance to win in regulation. Sarah Lasker '14 hit the crossbar with a shot in the 55th minute for the Continentals. Later in the second half, a Cortland player fired a high shot with some pace at the Hamilton goal, but Hailey Bobin '12 tipped the ball over the crossbar.
Early in the second overtime, Anne Graveley '11 carried the ball up the right side and sent a cross into the middle of the penalty area to a wide-open Rimmer, who calmly placed a low shot that deflected off the inside of the right post and into the net. Graveley leads the team with four assists.
Bobin finished with four saves and Pam Monnier '11 stopped six shots for the Red Dragons. The Continentals held a 17-15 edge in shots, but Cortland dominated in corner kicks, 11-3.