Women's soccer blanks Conn. College
---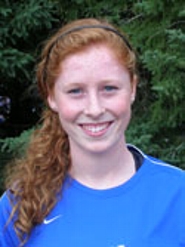 Emily Grund '15 posted one goal and one assist to lead Hamilton College to a 2-0 win against Connecticut College in a NESCAC women's soccer game at Hamilton's Love Field on Sept. 17.

Grund recorded the first three points of her collegiate career. Liza Gergenti '14 stopped all three shots she faced for her fifth career shutout with the Continentals. Alex Rimmer '13 scored her third goal this year and her 26th at Hamilton. Emi Birch '14 was credited with her second assist of 2011.

Amy Lowitt '13 made nine saves for Conn. College. The Camels haven't scored in two games this year. The two teams were playing each other for the first time.

Hamilton (2-2-0 overall, 1-1 NESCAC) grabbed a 1-0 lead in the 25th minute. The ball was served from the corner to Rimmer, who one-touched a shot that ripped the back of the net. The Continentals led 1-0 at the break as they held a commanding 8-1 shot advantage.

Conn. College (0-2-0, 0-2) kept it a one-goal game until just 86 seconds remained in the second half. The Continentals were awarded a free kick, which tipped off Lowitt's glove and bounced away from the keeper. Grund got to the loose ball first and scored her first goal.

Hamilton enjoyed a 15-6 shot advantage, and took four corner kicks to two for the Camels. The Continentals are 11-0-1 in their last 12 home games.

Hamilton travels to Utica College for a non-conference game on Sunday, Sept. 18. Conn. College hosts University of Massachusetts-Dartmouth on Tuesday, Sept. 20.