Women's soccer blanks Oswego
---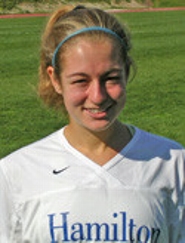 Lauren Farver '11 and Anne Graveley '11 scored one goal apiece in the second half to lead Hamilton College to a 2-0 win against SUNY Oswego in a non-league game at Hamilton's Love Field on Sept. 5.
Hamilton's defense has opened 2010 with a pair of shutouts. The Continentals (1-0-1 overall) played to a 0-0 tie at Massachusetts College of Liberal Arts on Saturday. Hailey Bobin '12 made one save in the first half and Liza Gergenti '14 didn't face a single shot in the final 45 minutes.
Hamilton dictated the action from the outset, but didn't have any goals to show for it in the first half. Graveley pounded a long shot that banged off the crossbar midway through the half. The Continentals finished the contest with a 19-1 shot advantage and a 5-0 edge in corner kicks.
Farver finally broke through in the 49th minute. Lauren Brady '14 lofted a shot that clanged off the crossbar again, but this time Farver was there to head the ball into the open net. Graveley provided the final margin in the 82nd minute. Emi Birch '14 passed ahead neatly to Graveley, who managed to get behind the defense, and Graveley slid a low, bouncing shot to the right of the closing goalkeeper. The goal was the 20th of her career.
Christina Fregosi '13 made three stops for the Lakers (1-1-0). Hamilton has won 10 straight games against Oswego and the Continentals lead the all-time series, 13-5-1. Hamilton hosts Utica College for another non-league game on Saturday, Sept. 11.