Women's soccer breezes to league win
---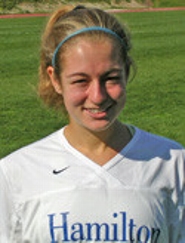 Four Hamilton College players scored one goal each and the Continentals cruised to a 4-0 Liberty League victory against visiting Rensselaer at Love Field on Oct. 26.
Kate Fowler '10 and Hailey Bobin '12 made two saves apiece to combine on Hamilton's fifth shutout this year. Both teams played their final league game of the season. The Continentals (8-3-2 overall, 2-3-2 Liberty) are unbeaten in their last three games. The Red Hawks (6-9, 1-6) lost their third straight game.
Lauren Farver '11 gave Hamilton the only goal it needed just 5 minutes, 35 seconds into the first half. Katie Mann '10 cracked a shot from the right edge of the box and Farver re-directed the ball from point-blank range for her eighth goal.
Erica Dressler '09 put the Continentals up 2-0 in the 34th minute when she stole the ball from a defender in the Rensselaer box, turned around and fired a shot past the surprised keeper. Dressler leads the team with 13 goals and 27 points. She ranks second on the program's career list with 34 goals and 81 points.
Jessy Gelber '09 made the score 3-0 after nine minutes had elapsed in the second half. Gelber took a pass on the left wing from Erica Skinner '12 and found nobody between her and the keeper. Gelber dribbled once and calmly bounced a low shot past the diving goalie for her fourth goal.
The Red Hawks were the victims of some bad luck on Hamilton's fourth goal. Maria Treacy '12 lofted a crossing pass from far left of the goal to Lauren Brousseau '12, who was just a few feet from the goal. The defender marking Brousseau got her foot on the pass instead as both players dove for it, but knocked the ball into her own net with 14:10 left in regulation. Treacy received credit for her first goal.
The Continentals, who lead the all-time series 13-5-1, held a 20-9 advantage in shots. Hamilton took seven corner kicks to six for Rensselaer. The Continentals host SUNY Oneonta for their final regular season contest on Saturday, Nov. 1, at 2:30 p.m.