Women's soccer breezes to season opening win
---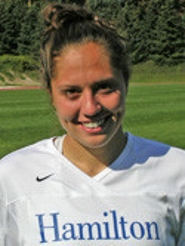 Four different players scored a goal for Hamilton College as the Continentals cruised to a 4-0 win against visiting Massachusetts College of Liberal Arts in a non-league women's soccer game at Love Field on Sept. 5.

Anne Graveley '11 gave Hamilton (1-0 overall) an early 1-0 lead with a goal in the fifth minute in the Contintentals first ever meeting with the Trailblazers. Laura Brandimarte '11 was credited with the assist. Alex Rimmer '13 scored her first collegiate goal to make the score 2-0 in the 19th minute.

The Continentals continued to pour it on in the second half. Katie Mann '10 scored on an assist from Lauren Brousseau '12 in the 57th minute. Ricki Feldman '10 completed the scoring with 2:19 remaining. Charlotte Cosgrove '13 lofted a pass into the box and Katie Lyons '11 headed it to Feldman, who headed the ball into the back of the net.

Kate Fowler '10 started in goal for Hamilton and didn't need to make a save. Hailey Bobin '12 played the entire second half and stopped five shots. The Continentals held a 26-13 advantage in shots and took eight corner kicks to three for MCLA (0-1).

Hamilton travels to SUNY Oswego on Saturday, Sept. 12, for another non-league game at 1 p.m.