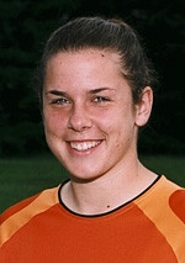 Four seniors starred for unbeaten and nationally ranked No. 9 Hamilton College in the Continentals' 5-0 Liberty League win against visiting Clarkson University on Senior Day at Love Field on Oct. 21.
Nicole Tetreault '08 scored two goals, Taylor Brady '08 tallied one goal for the third straight game, Kim Bauer '08 was credited with her third assist and Caitlin McGilley '08 set a program record with the 20th shutout of her career. Megan Brousseau '08, Ali Grant '08 and Annie Harleman '08 also played their last regular season games at Love Field.
Erica Dressler '09 added a goal and an assist, and Laura Brandimarte '11 tallied an unassisted goal off the bench. Dressler, who leads Hamilton with 11 goals and nine assists, established a program record with 31 points this season.
The Continentals (12-0-1 overall, 6-0-1 league) clinched a share of the league regular season title for the second time in four years. Hamilton won the league crown outright in 2004. The Continentals were 12-0-1 through the first 13 games that year, but lost to SUNY Oneonta in the regular season finale. Hamilton travels to nationally ranked Oneonta for a non-league game on Saturday, Oct. 27, at 1 p.m.
Tetreault scored just 58 seconds into the contest when she headed in Bauer's crossing pass from the left side. In the 23rd minute, Dressler took a shot that was saved, but Tetreault was there for the rebound and her ninth goal. Brandimarte scored her second goal this year in the 26th minute and Dressler made the score 4-0 just 2:20 later. The Continentals have outscored their opponents 33-1 in the first half.
Brady's fourth goal of the season in the 70th minute closed out the scoring. McGilley made four saves for her sixth shutout this year. She has a .34 goals against average and a .939 save percentage.
Hamilton held a commanding 30-9 advantage in shots and took three corner kicks to Clarkson's one. The Continentals extended their win streak at Love Field to 15 games. Hamilton leads the all-time series against the Golden Knights with 17 wins, six losses and two ties. Clarkson (3-9-2, 0-6-1) has lost its last eight games against the Continentals.