Women's soccer cruises to win at Utica
---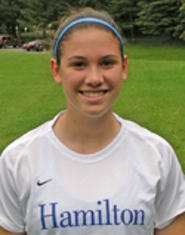 Maria Treacy '12 scored two goals to lead Hamilton College to a 4-0 non-conference win against Utica College at the Utica College Soccer Field on Sept. 18.

Treacy entered the game with one career goal. She is the first Hamilton player to post a multi-goal game this year. Emi Birch '14 and Rachel Hirsch '15 added one goal apiece, and both recorded the first goal of their collegiate careers.

Emily Grund '15 and Charlotte Cosgrove '13 were credited with one assist apiece. Grund and Birch are tied for the team lead with two helpers. Liza Gergenti '14 posted her second shutout in as many days as she stopped both shots she faced.

The Continentals (3-2-0 overall) took a 1-0 lead in the 26th minute. Treacy collected a loose ball in the 18-yard box and her shot evaded the diving keeper before it settled into the left side of the goal.

Treacy scored again in the 38th minute when Cosgrove lofted a corner kick into the box, and Treacy finished the play. Hamilton owned a 2-0 lead at the break. Utica didn't take a single shot in the first 45 minutes.

In the 66th minute, the Continentals were awarded a free kick in the middle of the field from just outside the box. Birch steered a hard shot around the wall and into the back of the net.

Hirsch completed the scoring less than a minute later. Grund sent a long pass ahead to Hirsch, who went in alone against the keeper. Hirsch chipped the ball over the keeper's head and into the goal.

Hamilton enjoyed a 22-4 shot advantage, and took seven corner kicks to four for the Pioneers. The Continentals shut out Connecticut College 2-0 at home on Saturday. Utica dropped to 2-4-0.

Hamilton hosts Amherst College in NESCAC play on Saturday, Sept. 24.