Women's soccer defeats Trinity in 2OT in season opener
---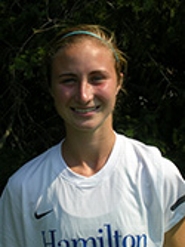 Hannah Withiam '16 scored with 5:30 left in the second sudden-victory overtime period and lifted Hamilton College to a 2-1 win against Trinity College in a NESCAC game at Hamilton's Love Field on Sept. 8.

This was the first game of 2012 for both teams. Hamilton had a non-conference game at SUNY Oswego postponed due to thunderstorms on Sept. 4. The Continentals return to Oswego on Sunday, Sept. 9.

Withiam finished with a goal and an assist in her first game for Hamilton. Halle Becker '15 scored the other goal and Liza Gergenti '14 finished with four saves, including one in each overtime period.

Karyn Barrett '15 scored Trinity's goal and was credited with six of the Bantams' 10 shots. Monica DiFiori '16 stopped eight shots, including one in each overtime period.

Rebecca Rees '16 started the play on the game-winner with a corner kick -- the Continentals' lone corner kick of the afternoon. Rees' kick found Withiam less than 10 yards from the goal, and she headed the ball into the crossbar. The rebound came right back to Withiam, who headed the ball past DiFiori from close range.

Barrett gave Trinity a 1-0 lead in the 18th minute. After the ball deflected off a player in the box, Barrett collected it and scored on a shot to the lower left corner of the goal. The Bantams led 1-0 at the break.

Becker tied the score in the 69th minute on another shot to the lower left corner of the goal. Becker has two goals in her Hamilton career.

The Continentals owned a 23-10 advantage in shots, while Trinity took three corner kicks to Hamilton's one. The Bantams host Manhattanville College in non-conference action on Wednesday, Sept. 12.