Women's soccer defeats Wesleyan
---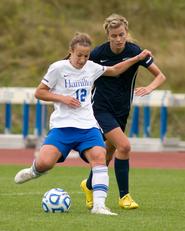 Alex Rimmer '13 scored two goals to lead Hamilton College to a 3-1 win against Wesleyan University in a NESCAC game at Hamilton's Love Field on Sept. 25.

Rimmer moved into fourth place on the program's all-time list with 28 career goals. She leads the Continentals with five goals and 11 points this year. Meg Alexander '15 notched her first goal for Hamilton, and Emi Birch '14 was credited with her team-high third assist. Liza Gergenti '14 made four saves and played all 90 minutes in goal for the Continentals.

Mikaela Curtin '13 scored Wesleyan's goal, and Jessica Tollman '15 stopped seven shots. Today's game was the first-ever meeting between the two programs.

Hamilton (4-3-0 overall, 2-2 NESCAC) grabbed a 1-0 lead in the 36th minute on Rimmer's first goal. Birch slotted a pass ahead to Rimmer, who got behind the Cardinals' defense, and sent in Rimmer one-on-one against Tollman. Rimmer's shot deflected off Tollman and settled in the back of the net. The Continentals led 1-0 at the break.

Wesleyan (3-3-0, 1-3) tied the score in the 51st minute on Curtin's first goal of 2011. After a free kick from the side ended up in the 18-yard box, Curtin found the loose ball and poked it past Gergenti.

Alexander gave Hamilton the lead for good in the 79th minute when her shot from 25 yards out on the right side sailed over Tollman's head and into the goal. Rimmer provided the clinching goal 79 seconds later. Her free kick from just outside the 18-yard box on the left side found the top corner of the goal at the far post.

The Continentals held a 15-12 edge in shots, and took four corner kicks to three for the Cardinals. Hamilton travels to Bates College for another NESCAC contest on Saturday, Oct. 1. Wesleyan is at Middlebury College in NESCAC action on Saturday.