Women's soccer dismantles Utica
---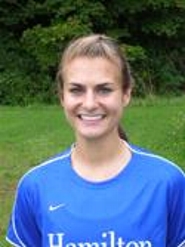 Laura Wray '11 and Alex Rimmer '13 scored two goals apiece to lead Hamilton College to a 5-0 rout of Utica College in a non-league game at Hamilton's Love Field on Sept. 11.
Anne Graveley '11 chipped in one goal and three assists for the winners. Graveley entered the contest with five career assists. Hailey Bobin '12 and Liza Gergenti '14 combined on the shutout. Bobin started and played the first half without facing a shot on goal, and Gergenti made one save in the second half.
Jocelyn Rivera '14 was busy in Utica's goal as she made 13 saves, including 10 in the second half. The Pioneers (1-3-0 overall) were shut out for the third time this year. Hamilton (2-0-1) remained unbeaten and unscored upon thus far.
Graveley's goal from about 20 yards out on the left side gave the Continentals a 1-0 lead in the 35th minute. A little more than two minutes later, Wray scored her first goal, and Hamilton owned a 2-0 advantage at the half. Rimmer tallied her first goal in the 60th minute and added another in the 66th. Wray completed the scoring in the 72nd minute.
The Continentals enjoyed a 34-4 advantage in shots and a 6-2 cushion in corner kicks. Hamilton leads the all-time series between these local rivals, 17-8-1. The Continentals host SUNY Cortland for another non-league game on Sept. 15 at 4 p.m.