Women's soccer edged at St. Lawrence
---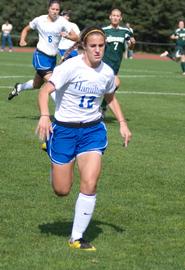 Marcelle Justison scored one goal and assisted on the other and goalkeeper Abby vanGeldern made 14 saves as St. Lawrence University upset Hamilton College 2-1 in a Liberty League game at Sandy MacAllaster Field on Oct. 24.

The Saints (10-7-0 overall, 3-4 Liberty) handed the Continentals just their second loss of the season. Hamilton (8-2-3, 4-2-1) is ranked third in the East Region by the NCAA, and was 4-0-2 in its previous six games.

The Continentals tied for third place in the league standings with Skidmore College, but Hamilton earned the third seed in the four-team league tournament thanks to a 1-0 win at Skidmore on Sept. 25. The Continentals will travel to Vassar College for one semifinal on Wednesday, Nov. 3.

The Saints made some adjustments at halftime offensively to get the comeback win. Hamilton outshot the Saints 11-3 in the first half and scored the first goal. Forward Alex Rimmer '13 tallied her team-high ninth of the year, taking a cross from Katie Lyons '11, and putting the ball into the middle of the net from point-blank range at 32:51.

St. Lawrence tied the score at the 54:20 mark as Justison crossed the ball in the box to Brook Hessney, who scored her fourth of the season with a shot to the right corner. Kristina Peso started the game-winning play with a run up the side and a cut into the box. She crossed the ball to the center where it bounced off a Hamilton defender and out to Justison at the top of the box. The forward banked in her third goal of the year off the crossbar at 77:02.

Both teams had additional scoring chances in the final 13 minutes, with vanGeldern coming up big on a shot by Rimmer with 11 minutes to go, and Hamilton's Liza Gergenti '14 making a big save on a point-blank bid by Alex Troli with 3:35 left.

Hamilton outshot the Saints 25-9 as Gergenti finished with four saves. The Continentals had four corner kicks to none for the Saints. Hamilton ends the regular season with a trip to Hartwick College for a non-league game on Saturday, Oct. 30.