Women's soccer edged by SUNY Cortland
---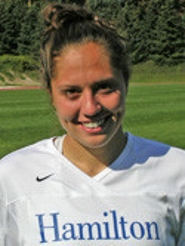 Hamilton College fell to host SUNY Cortland, 1-0, at Holloway Field for its first loss of the season on Sept. 16.
Hamilton (2-1-0 overall) out shot Cortland 8-6 in the first half, but scoring opportunities were rare. Cortland (6-0-0) had two opportunities early in the second half. In the 52nd minute, a shot off a corner kick was denied at the goal line by Hamilton defender Meghan Griesbach '12. In the 53rd minute, Cortland banged a shot off the top right corner of the goal and out of bounds.
Cortland scored the only goal of the game in the 59th minute. The Red Dragons lofted a corner kick into the box that Hamilton goalie Kate Fowler '10 knocked away. Cortland connected on the rebound and put an 18-yard shot inside the right post.
The Continentals fought to rally late against the fourth ranked team in the East region. In the 89th minute, Anne Graveley '11 took a straight on shot from 25 yards out. The Red Dragon goalie made the save, and Cortland secured the rebound. Hamilton had another chance on a free kick with 15 seconds remaining, but Cortland cleared the ball away from the box and the clock ran out.
Fowler finished with three saves. Cortland led in corner kicks, 5-2. Hamilton and Cortland tied in shots with each team taking 12.
Hamilton returns to play on Sept. 19, when they travel to Nazareth College for a non-league game starting at 1 p.m.