Women's soccer edged by Utica
---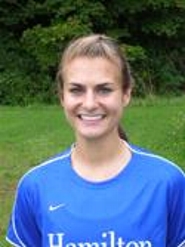 Hamilton College lost, 1-0, to host Utica College in a non-league game at Charles A. Gaetano Stadium on Oct. 14.
Utica College (4-8-0 overall) scored the game-winning goal on a shot into the top right corner of the net from 22 yards out in the 29th minute.

Hamilton (6-5-0) outshot Utica 20-8 and the Continentals earned an 8-1 advantage in corner kicks. Anne Graveley '11 and Laura Brandimarte '11 fired shots on goal in the final three minutes of the second half, but the Utica goalkeeper was there to make the saves. Kate Fowler '10 made three saves for Hamilton.

Hamilton returns to action on Tuesday, Oct. 20, when they travel to Oneonta, N.Y., for a non-conference contest against SUNY Oneonta at 4 p.m.