Women's soccer drops heartbreaker in double overtime
---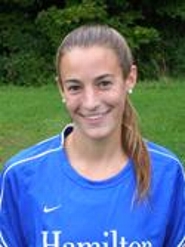 Hamilton College fell 1-0 in double overtime against nationally ranked No. 5 William Smith College in a Liberty League game at Love Field on Oct. 3.
William Smith (8-2-0 overall, 3-2 Liberty) scored the game-winning goal with just 38 seconds left in the second and final sudden-victory overtime period. Hamilton (4-4-0, 1-2) fought hard throughout and fired off a total of 10 shots.
Midway through the second half, Kate Fowler '10 came out in front of the goal and made a diving save to help keep the Herons off the scoreboard. Fowler played all 109 minutes, 22 seconds and finished with eight saves.
Hamilton came very close to getting on the scoreboard in the second half. In the 64th minute, Alex Rimmer '13 broke through the Heron defense for a one-on-one situation with the Heron goalkeeper, who stepped up to make the save. A little less than a minute later, Laura Brandimarte '11 dribbled past a defender and fired a shot at the goal, but the keeper once again made the save.
Hamilton took only one corner kick, while William Smith took three. The Herons held an advantage in shots with 17.
Hamilton returns to play on Friday, Oct. 9, when the Continentals host Clarkson University for a league game at 4 p.m.