Women's soccer edges SUNY Oswego
---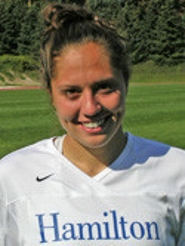 Anne Graveley '11 led visiting Hamilton College with two goals in a 3-2 non-league win over SUNY Oswego at Laker Field on Sept. 12.
SUNY Oswego (3-1-0 overall) started the scoring 9 minutes, 55 seconds into the first half with a long-range goal from the right side. Hamilton (2-0-0) responded with 8:42 remaining in the first half. Graveley connected on a pass from Charlotte Cosgrove '13 and scored on a shot into the right side of the goal.
The Continentals took the lead in the 66th minute when Alex Rimmer '13 scored her second goal of the season. Katie Lyons '11 was credited with the assist. A little over six minutes later, the Continentals expanded their lead to 3-1 as Graveley beat an Oswego defender up the right side to score her third goal of the season. She now leads the team with three goals and six points.
Oswego cut Hamilton's lead in half in the 73rd minute, but could not tally the equalizer. Hailey Bobin '12 entered the game at the start of the second half for Hamilton and recorded two saves. Kate Fowler '10 started in goal.
Hamilton held a slight advantage in shots, 14-12. The Continentals earned five corner kicks to Oswego's three. Hamilton returns to action on Wednesday, Sept. 16, at 4 p.m. when it travels to SUNY Cortland for another non-league game.