Women's soccer falls at Bowdoin in NESCAC quarterfinals
---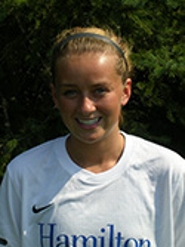 Jamie Hofstetter '16 recorded a hat trick in the second half and No. 4 seed Bowdoin College edged No. 5 Hamilton College 3-2 in a 2012 NESCAC Championship quarterfinal at Bowdoin's Pickard Field on Oct. 27.

Bowdoin (11-3-1 overall) improved to 6-11-3 while the Continentals dropped to 0-1-1 all-time in the NESCAC championship. The Polar Bears advance to the semifinals for the first time since 2008, and they will take on Amherst College at Williams College on Saturday, Nov. 3.

Molly Popolizio '14 and Kathleen Smith '15 chipped in one assist apiece for Bowdoin. Bridget McCarthy '16 made five saves for the winners.

Hamilton (9-5-1) received goals from Victoria Freeman '16 and Hannah Withiam '16 in the second half. Rebecca Rees '16 added an assist and Liza Gergenti '14 stopped four shots.

After a scoreless first half, Hofstetter opened the scoring 2 minutes, 58 seconds after the break. Popolizio fed Hofstetter on a breakaway and she fired the ball into the back of the net. Hofstetter extended the lead 2:08 later as she converted a pass from Smith.

Hamilton cut its deficit in half just 1:52 later when Freeman's shot found the goal after a scramble in front of the net that followed a Rees corner kick. Hofstetter added some insurance in the 66th minute with an unassisted goal to push the lead to 3-1. Her three goals tied three other players for the NESCAC championship record for goals in a game.

Withiam added a goal for the Continentals with 3:11 remaining when she headed in a corner kick taken by Rees. Hamilton didn't register another shot after the goal. Bowdoin owned an 11-8 advantage in shots, and in corner kicks at 4-2.

Alex Rimmer '13 ended her Hamilton career as the most prolific scorer in program history with a record 37 goals. She is also tied for second place with 81 career points.