Women's soccer falls in double overtime
---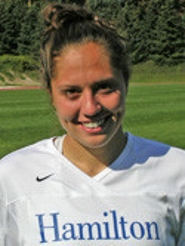 Nazareth College scored with 75 seconds left in the second overtime for a 2-1 win against visiting Hamilton College in a non-league game at Golden Flyer Stadium on Sept. 19.
After a scoreless first half, Nazareth (3-2-1 overall) broke the ice in the 68th minute. Hamilton (2-2-0) rallied to score the tying goal with 9 minutes, 46 seconds left in the second half. Anne Graveley '11 connected on a pass from Alex Rimmer '13 to score her fourth goal of the season. The goal sent the game into overtime.
Neither team was able to score in the first 10-minute overtime period. The first shot on goal came in the 105th minute, when Hamilton's Meg Pengue '12 took one that was saved. The next shot on goal ended the contest.
Kate Fowler '10 recorded six saves in the 73 minutes, 48 seconds she played. Hailey Bobin '12 finished with one save in 34:57. The Golden Flyers held the advantage in shots with 26 while Hamilton took 16. Nazareth also led in corner kicks, 8-0.
The Continentals open the Liberty League portion of their schedule on Friday, Sept. 25, when they travel to Rensselaer at 4 p.m.