Women's soccer handed first loss of 2011
---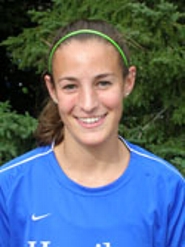 Katie Giberson posted two goals, including the go-ahead score early in the second half, to lead Trinity College to a 3-1 win against visiting Hamilton College in a NESCAC game on Sept. 10.

Alex Rimmer '13 scored her 25th career goal for Hamilton, and she has one in each game this year. Rimmer was credited with six of the Continentals' nine shots. Liza Gergenti '14 made six saves and played all 90 minutes in goal.

Hamilton (1-1-0 overall, 0-1 NESCAC) scored first on Rimmer's unassisted tally in the ninth minute. Giberson answered a little more than two minutes later on an assist from Elisa Dolan. Trinity's Jenny Ley fed Giberson for the clincher in the 58th minute, and Leigh Howard scored an insurance goal from long range with 6:41 left.

Lily Pepper made three saves in the Bantams' 2011 opener. Trinity held a 13-9 shot advantage, and both teams took three corner kicks. The two programs had never met before Saturday.

The Continentals travel to SUNY Cortland for a non-conference game on Wednesday, Sept. 14.