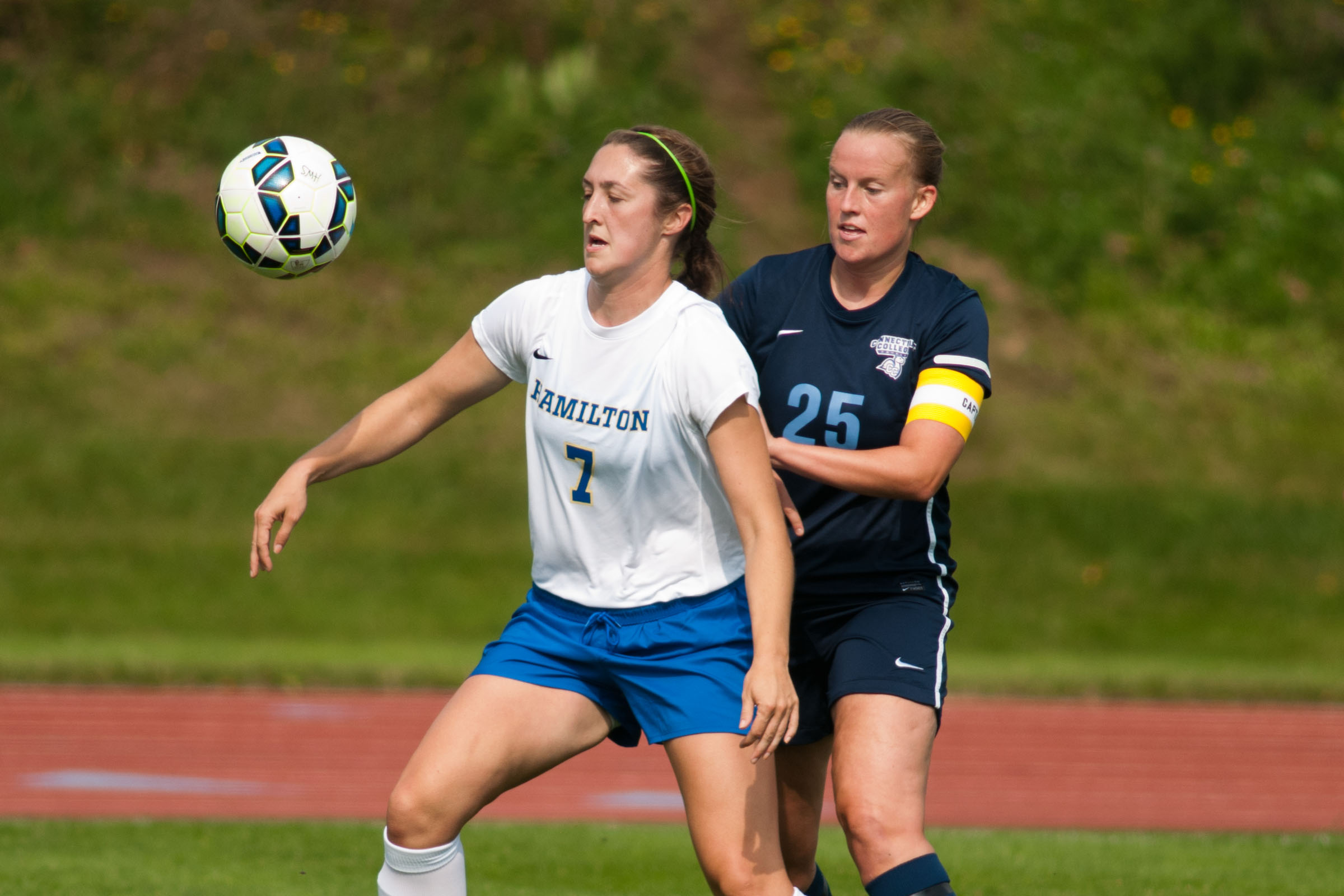 The Hamilton College women's soccer team won its 12th straight non-conference game on Sunday afternoon, beating visiting SUNY Canton 7-0 at Love Field. The Continentals (6-2-0) scored all seven of their goals in the first 32 minutes.

Box score

Katja Dunlap '18 led Hamilton with two goals and two assists. Rachel Hirsch '15 scored two goals and seven other Continentals recorded either a goal or an assist. Sara Lewis '16 and Allie Penta '16 scored their first collegiate point.

Dunlap assisted on the game's first two goals. In the 12th minute she sent a through ball to Amanda Becker '18, who carried it into the box and crossed a shot from left of the near post to just inside the far post for her second goal of the season. Just 78 seconds later Dunlap's high cross was headed into the net by Lewis.

Katie Kreider '18 scored her team-leading fifth goal of the season in the 16th minute, carrying a pass from Hannah Withiam '16 down the left side and scoring inside the near post.

Dunlap netted her first career goal 71 seconds later, taking advantage of an open net after Kangaroo goalkeeper Liz Lynch '18 came out to challenge Kreider, who found Dunlap alone in front. Dunlap picked up her sixth point of the game at the 19:32 mark, receiving a long cross from the right side by Kate Whiston '18 at the top of the box.

Hirsch's first goal of the game came in the 31st minute when she scored on a long kick into the top of the net after taking a back pass from Ali Clarke '17. Hirsch closed out the scoring less than a minute later. Lynch came out of the net to stuff Penta but the ball made its way to Hirsch who collected her third goal of the year.

The Continentals allowed just three shots with Emily Dumont '18 needing to save only one to record her first collegiate shutout. Fran Trombley, who had both Kangaroo shots in the second half, carried the ball down the right side and took a 25-yard shot that Dumont corralled.

Hamilton closes out the non-conference portion of its schedule on Wednesday, Oct. 1, hosting Utica at 4 p.m. Canton returns to action on Saturday, hosting Cazenovia.