Women's soccer player an Academic All-America selection
---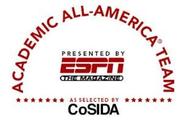 Hamilton College's Erica Dressler '09 (Farmington, Conn./Miss Porters School) has been selected to the 2008 ESPN The Magazine Academic All-America Women's Soccer Team by the College Sports Information Directors of America (CoSIDA).
Dressler is one of 10 student-athletes on the College Division's Third Team. A total of 34 student-athletes from across the country in NCAA Divisions II and III were recognized on three teams. Dressler was a First Team all-academic District 1 pick for schools in New York and New England earlier this year, and she made the Second Team in 2007.
Dressler led the Continentals (8-4-2 overall) with 13 goals and 27 points this year. She set team records for most goals (14), assists (10) and points (38) in a season in 2007, when the team advanced to the NCAA tournament quarterfinals for the first time. She ranks second on the program's career list with 34 goals and 81 points. She is a three-time member of the Liberty League all-Academic Team and has a double major in hispanic studies and world politics.
Dressler is the ninth Hamilton student-athlete to receive a CoSIDA Academic All-America award. Those nine student-athletes have earned a total of 10 selections since the academic All-America program began in 1952.
Student-athletes need to meet several eligibility requirements to be considered for the academic All-America team. The student-athlete must be a starter or important reserve with at least a 3.30 cumulative grade point average (on a 4.0 scale) for her career. No athlete is eligible until she has reached sophomore athletic and academic standing at her current institution.