Women's soccer player picks up another award
---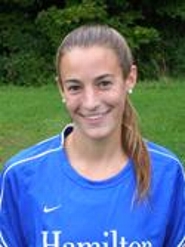 Hamilton College's Alex Rimmer '13 (Rye, N.Y./Rye HS) was a Division III Upstate co-offensive player of the week pick for women's soccer by the Eastern College Athletic Conference on Oct. 27.
Rimmer scored four goals as Hamilton went 2-0-1 in three games last week. She notched all three goals in a 3-1 Liberty League win against Union College on Oct. 24, and added another tally in a 2-2 tie at SUNY Oneonta on Oct. 20. Oneonta is ranked No. 1 in the East region by the NCAA. Rimmer leads the league with 12 goals and 25 points.
The women's soccer team finished the regular season with an overall record of 8-5-1, and landed in third place in the final league standings at 5-2-0. Hamilton will travel to Skidmore College for a league tournament semifinal game on Wednesday, Nov. 4. Skidmore finished second in the league standings.