Women's soccer player sets goals record in win
---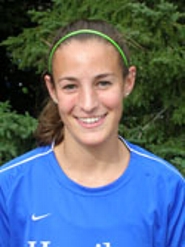 Alex Rimmer '13 tallied two goals and one assist and Hamilton College cruised to a 5-0 non-conference win over Utica College in Utica, N.Y., on Oct. 23.

Rimmer took over first place on the program's all-time list with 37 career goals, and moved into a tie for second with Erica Dressler '09 with 81 career points. Christina Robeson '97 holds the team record with 83 points.

Charlotte Cosgrove '13, Lauren Brady '14 and Rachel Hirsch '15 each scored a goal in the second half for the Continentals. Victoria Freeman '16, Hannah Withiam '16, Rebecca Rees '16 and Abbie Webster '16 were all credited with one assist. Liza Gergenti '14 made four saves for her fifth shutout of the year.

Caitlyn Smith '14 started in goal for Utica and made 10 saves in 52-plus minutes. Smith had to leave the game due to an injury after she and Rees collided while going for a free ball in the box. Marissa Hotaling '13 made six saves the rest of the way. The Pioneers lost their ninth straight game.

Hamilton (9-4-1 overall) opened the scoring in the 17th minute on Rimmer's first goal. After Freeman settled the ball in the box she passed to Rimmer, who fired a shot to the right of Smith for the only goal of the first half.

Utica (6-10-0) came out firing just 35 seconds into the second half when Spohler's shot was saved by a sliding Gergenti to preserve the one-goal lead.

The Continentals extended their lead in the 53rd minute on a play that Withiam started from the right side. She crossed the ball into the box to Rimmer, who headed it to Cosgrove. Cosgrove found the back of the net on a low shot past a diving Smith.

Brady added her first goal of the year in the 62nd minute. She lofted a shot from 30 yards out that snuck under the crossbar and into the top left corner.

Rimmer's record-setting goal came in the 87th minute on a two-on-one situation. Rees dribbled down the middle of the field and passed it to Rimmer, who took two dribbles and sent a shot into the right side of the net for her team-leading eighth goal.

Hirsch tacked on the final goal with just one second left. Webster started with the ball near the left corner and fed Hirsch. Her shot from 30 yards out went just over Hotaling's head and into the back of the net.

Hamilton enjoyed a 30-6 shot advantage, and held a 3-1 edge in corner kicks. The Continentals improved to 19-8-1 all-time against the Pioneers, and 12-2-1 since 1998.

Hamilton travels to Bowdoin College for a 2012 NESCAC Championship quarterfinal on Saturday, Oct. 27. The Pioneers return to action on Saturday when they go to Bard College.