Women's soccer posts second win in as many days
---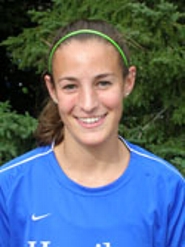 Hannah Withiam '16 and Alex Rimmer '13 scored goals in the first half and Hamilton College held on for a 2-1 win against SUNY Oswego in a non-conference game at Oswego's Laker Soccer Field on Sept. 9.

The game was originally scheduled for Sept. 4, but thunderstorms halted action midway through the first half with Hamilton ahead 2-0, and the contest was eventually postponed. NCAA rules dictated that Sunday's game would start over with no score.

Withiam leads the Continentals with five points on two goals and one assist. Rimmer moved into a tie for third place with Mara Dropkin-Frank '05 on the program's all-time list with 30 career goals.

Rebecca Rees '16 and Emily Foley '16 were credited with assists for Hamilton. Liza Gergenti '14 started in net and didn't face a shot on goal through 65-plus minutes. Melanie Miller '15 relieved Gergenti and made two saves the rest of the way.

The Continentals (2-0-0 overall) grabbed a 1-0 lead on Withiam's shot from the top of the box that went just under the crossbar in the 30th minute. Rimmer gave Hamilton a two-goal cushion just 2 minutes, 15 seconds later when she scored on an impressive bicycle kick after a corner kick by Rees.

Samantha Veltri '15 scored an unassisted goal for Oswego (2-2-0) in the 69th minute. Shelly Bateman '13 received a pass inside the box and sent the ball over to Veltri, whose initial shot was stopped by Miller. The rebound went right back to Veltri, who did not miss again.

Minutes later, Raquel Vescio '14 nearly leveled the score. Vescio's shot from the top of the box was punched into the air by Miller, ricocheted off the crossbar and cleared out of danger.

The Continentals owned a commanding 12-4 shot advantage, including 9-1 in the first half. Hamilton took five corner kicks to two for the Lakers. Oswego's Steph Hotaling '15 stopped three shots.

The Continentals host SUNY Cortland for another non-conference game on Wednesday, Sept. 12.