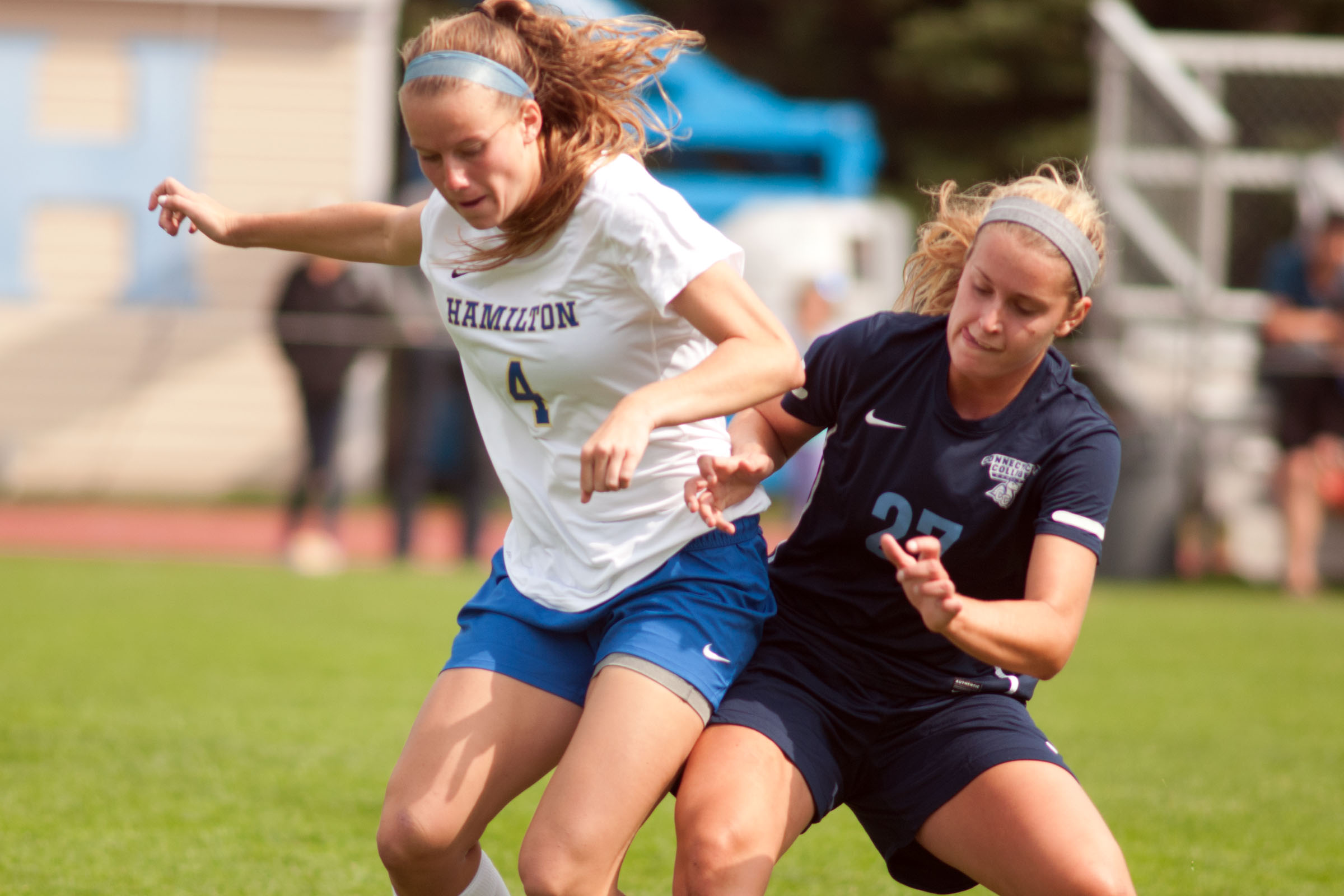 The Hamilton College women's soccer team rolled to a 4-0 non-league win over Utica Sunday afternoon at Utica's Gaetano Stadium. The victory snapped a six-game winless streak for the Continentals.

Box score

Katja Dunlap '18 had a hand in three of Hamilton's four goals and Rachel Cooley '18 and Emily Dumont '18 combined to post the shutout.

The Continentals (1-4-2 overall) outshot the host Pioneers 26-6 on their way to their highest scoring game since blanking SUNY Canton 7-0 last September.

Dunlap opened the scoring with her first goal of 2015 and assisted on two more goals. She opened the game's scoring in the 25th minute, recording her seventh career goal off an assist from Morgan Fletcher '17. Seven minutes later, Dunlap assisted on a goal by Victoria Freeman '16 that gave the visitors a 2-0 lead.

Hamilton added two more goals in the second half. Katie Tenefrancia '19 scored her second goal in as many days and Darby Philbrick '18 picked up her fourth career goal, closing out the scoring in the 62nd minute. Becca Rees '16 assisted on Tenefrancia's goal (she now has 32 career points) and Dunlap raised her career total to 19 points by setting up Philbrick's goal.

Cooley started in goal and made one save. Dumont relieved Cooley after the break and recorded three saves in 45 minutes.

Kimberly Beattie made 13 saves for the Pioneers (2-6-2), who are winless in seven straight (including four consecutive losses).

Hamilton has won six straight over Utica -- outscoring the Pioneers 27-0 in those games -- and now leads the all-time series 22-8-1.

The Continentals open a four-game home stand with a pair of games at Love Field this weekend; Hamilton hosts NESCAC rivals Wesleyan and Tufts on Saturday and Sunday, respectively, in 11 a.m. contests as part of Hamilton's Fallcoming Weekend.