Women's soccer runs unbeaten streak to four games
---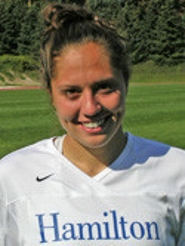 Anne Graveley '11 recorded one goal and one assist to lead Hamilton College to a 3-1 win against Vassar College in a Liberty League women's soccer game at Hamilton's Love Field on Oct. 9.

Hamilton (7-1-2 overall, 3-1-1 Liberty) is unbeaten in its last four games. The Continentals are in second place in the league standings -- one point behind William Smith College -- with two league games remaining. Vassar (9-4-0, 3-2) has lost two straight games after the Brewers won six in a row.

Graveley gave Hamilton an early 1-0 lead in the sixth minute when she scored her fourth goal. She tracked down a loose ball after a shot had been blocked by a Vassar defender, and booted it into the back of the net. Graveley is tied for the team lead with 13 points.

Graveley was credited with her team-leading fifth assist in the 31st minute as the Continentals grabbed a 2-0 advantage. She sent a crossing pass from the right side to Katie Lyons '11 in front of the goal, and Lyons finished the play for her first goal this year. Hamilton led 2-0 at the half.

The lead grew to 3-0 in the 66th minute when Laura Wray '11 carried the ball upfield and lofted a shot from just outside the goalie box that eluded the keeper's leap. Wray's goal was her third this year.

The Brewers eluded the shutout with 8:51 remaining. Allison McManis '11 scored her third goal on a shot from a crowd in front of the goal following a corner kick. Sheeva Seyfi '14 was credited with the assist.

Liza Gergenti '14 made six saves for the Continentals, who lead the all-time series 11-1-1. Vassar held a 13-10 shot advantage, and a 2-1 edge in corner kicks.

Hamilton is off until Tuesday, Oct. 19, when the Continentals host SUNY Oneonta for a non-league game. The Brewers return home to take on William Paterson on Monday, Oct. 18.