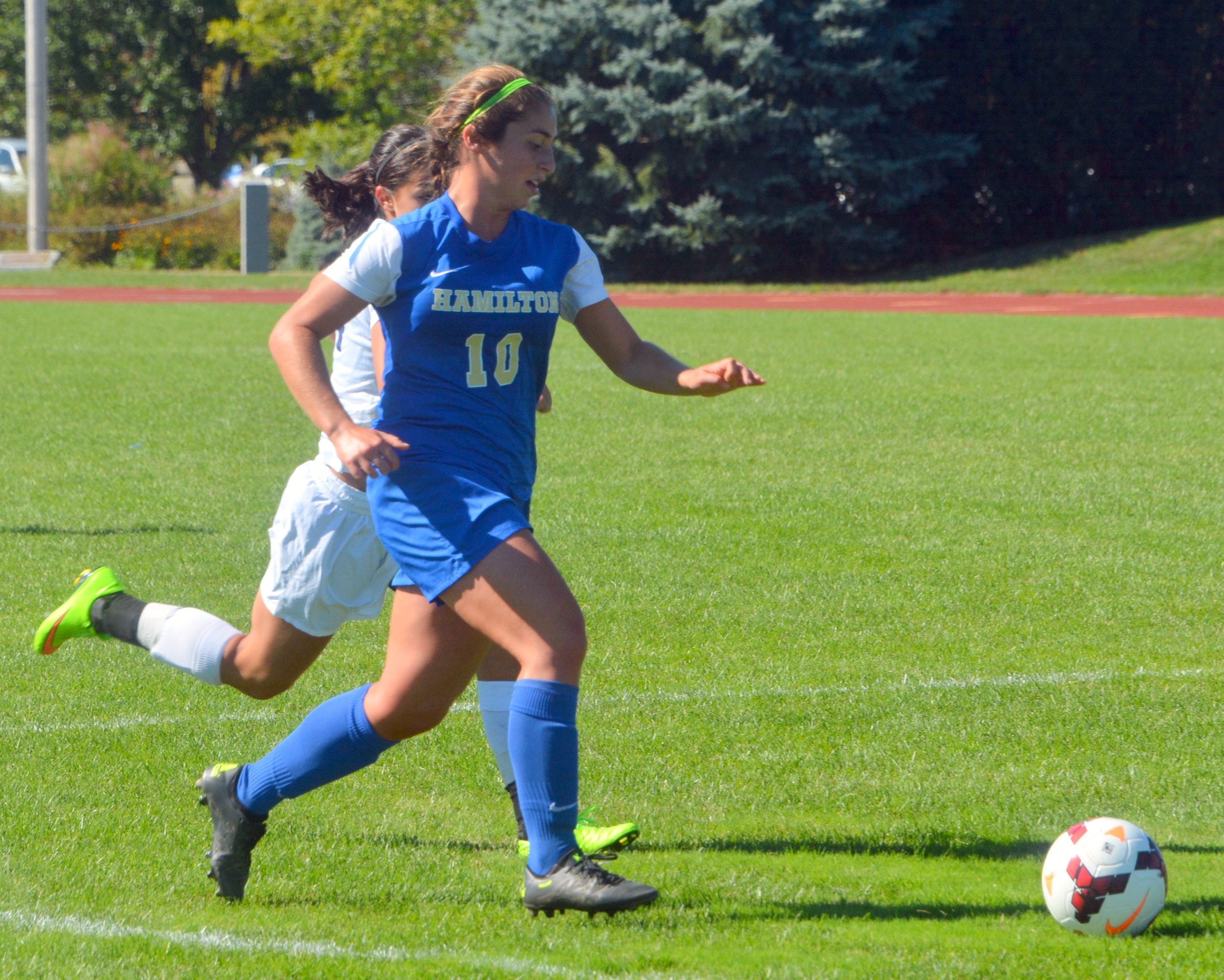 Hamilton College's Amanda Becker '18 and Ali Clarke '17 scored one goal apiece and the Continentals played to a 2-2 NESCAC tie against the host Connecticut College Camels on Saturday.

Box Score

Becker and Clarke tallied their fourth career goals for Hamilton. They scored exactly five minutes apart midway through the second half and gave the Continentals (0-4-2, 0-3-2 NESCAC) a lead that lasted about 13 minutes. Rachel Cooley '18 made four saves, including two in overtime.

Lauren Steele had both goals for Connecticut Coll. and Alex Bukovac was credited with two assists. Bryanna Montalvo made seven stops.

The Camels (1-2-3, 0-1-3) grabbed a 1-0 lead just 3:40 into the first half on one of their 11 corner kicks. Amanda Proulx took the corner and found Bukovac, who passed to Steele for a header that found the back of the net.

More than 60 minutes went by before Becker tied the score in the 65th minute Bea Blackwell '17 delivered a lead pass down the left sideline and Becker was able to beat Montalvo to the ball and one-time in the equalizer.

Clarke put Hamilton in front on a high, arching shot after a pass from Katie Kreider '18 in the 70th minute.

Steele tied the score with 7:17 left in regulation on a shot from the edge of the 18 after Bukovac sent a crossing pass into the middle of the field. With 2:05 remaining in the second overtime, Montalvo made a key save on Clarke to keep the visitors off the board. Connecticut Coll. held a 15-13 edge in shots.

The Continentals travel to Utica College for a non-conference match on Sunday, Sept. 27, at 1 p.m.