Women's soccer settles for tie with Vassar
---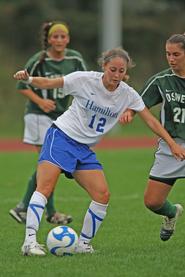 Erica Dressler '09 scored two goals to help lead Hamilton College to a 2-2 Liberty League tie against visiting Vassar College at rain-soaked Love Field on Oct. 25.
Dressler leads the Continentals (7-3-2 overall, 1-3-2 Liberty) with 12 goals and 25 points. She ranks second on the program's career list with 33 goals and 79 points. Hamilton had won all of its previous 10 games in the all-time series against the Brewers (8-4-1, 3-2-1).
Dressler's first goal was an unassisted tally in the 14th minute that gave the Continentals a 1-0 advantage. Vassar tied the score in the 30th minute with a goal off a corner kick. Dressler restored the one-goal lead with four seconds left in the half when she converted her third penalty kick this year.
Hamilton held on to its slim lead until late in the second half. Kate Fowler '10 made a terrific save but couldn't secure the ball and the Brewers pounced on the rebound for the tying goal with 2:42 remaining. Fowler finished with seven saves, including two in overtime.
Vassar took nine corner kicks to Hamilton's seven. The Continentals enjoyed a 21-13 advantage in shots. Hamilton hosts Rensselaer for this year's Liberty League finale on Sunday, Oct. 26, at 1 p.m.