Women's soccer shuts out Clarkson
---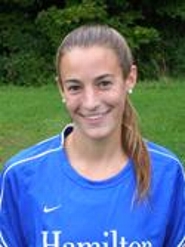 Alex Rimmer '13 led Hamilton College with two goals in the Continentals' 4-0 win over Clarkson University in a Liberty League game at Love Field on Oct. 9.
The Continentals (5-4-0 overall, 2-2 Liberty) lead the all-time series, 19-6-2, and own a 10-game win streak against Clarkson. The Golden Knights (2-8-1, 0-4-0) are winless in their last eight games.
Hamilton scored its first goal in the 24th minute when Ricki Feldman '10 sent a corner kick into the box to Megan Cairns '12, who put a header into the back of the net. The goal was Cairns' first of the season.
The Continentals pulled away in the second half, outshooting Clarkson, 17-7. Rimmer was taken down from behind at the top of the box during a breakaway opportunity 3 minutes, 51 seconds in, and Hamilton was awarded a penalty kick. Rimmer buried it into the left side of the net for her seventh goal.
In the 67th minute, Lauren Farver '11 fired a shot at the Clarkson goalie who knocked the ball away. Rimmer immediately collected the rebound and put a shot past the keeper. Rimmer leads Hamilton with eight goals and 17 points this season.
The Continentals added to their lead in the 71st minute, when Meg Pengue '13 pushed a pass up the field to Farver. She outran her defender and carried the ball into the box where she lofted a shot over the Clarkson goalie for her first goal this season.
Kate Fowler '10 started and earned one save in the first 45 minutes. Hailey Bobin '12 came into the game at the start of the second half, and only needed to make two saves.
Hamilton held a strong advantage in shots with 25 to Clarkson's nine. The Continentals also held the advantage in corner kicks with four, while the Golden Knights had only one.
Hamilton returns to action Saturday, Oct. 10, when it hosts St. Lawrence University for another league game at 2 p.m.