Women's soccer shuts out Skidmore
---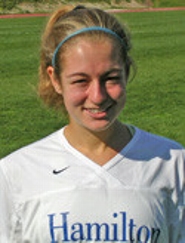 Lauren Farver '11 scored a goal in the 51st minute and Hamilton College's defense made it stand up as the Continentals won 1-0 against visiting Skidmore College in a Liberty League game at Love Field on Oct. 25.

Despite the loss, Skidmore (11-3-2 overall, 5-1-1 Liberty) is the second seed in the Liberty League tournament. Hamilton (8-5-1, 5-2-0) is the third seed and will travel to play the Thoroughbreds again in a semifinal game on Wednesday, Nov. 4.

The Continentals are 2-0-1 in their last three games. Skidmore was 4-0-1 in its previous five contests. Hamilton holds a slight edge in the all-time series, 15-14-2.

The Continentals dominated the first half as they built an 11-4 advantage in shots and took five corner kicks to one for the Thoroughbreds. However, the teams went into the break in a scoreless tie.

Farver broke the deadlock 5 minutes, 13 seconds into the second half. Olivia Robertson '12 skipped a pass into the box where Farver controlled the ball, turned to her left and fired a shot from 15 yards out past the diving goalkeeper. The goal was Farver's second this year and her 13th at Hamilton. Robertson picked up her first collegiate point. Farver almost scored in the first half on a long shot from outside the box, but the Skidmore keeper tipped the ball over the crossbar.

Kate Fowler '10 stopped four shots for her third shutout this year and the fifth of her career for the Continentals. Fowler lowered her goals against average to 0.86 and raised her save percentage to .825.

Hamilton's regular season is complete. The Continentals held a 17-11 advantage in shots and took eight corner kicks to Skidmore's two. Hamilton finished the regular season with a 6-1-0 record at Love Field, where it outscored opponents 15-2 in seven games.