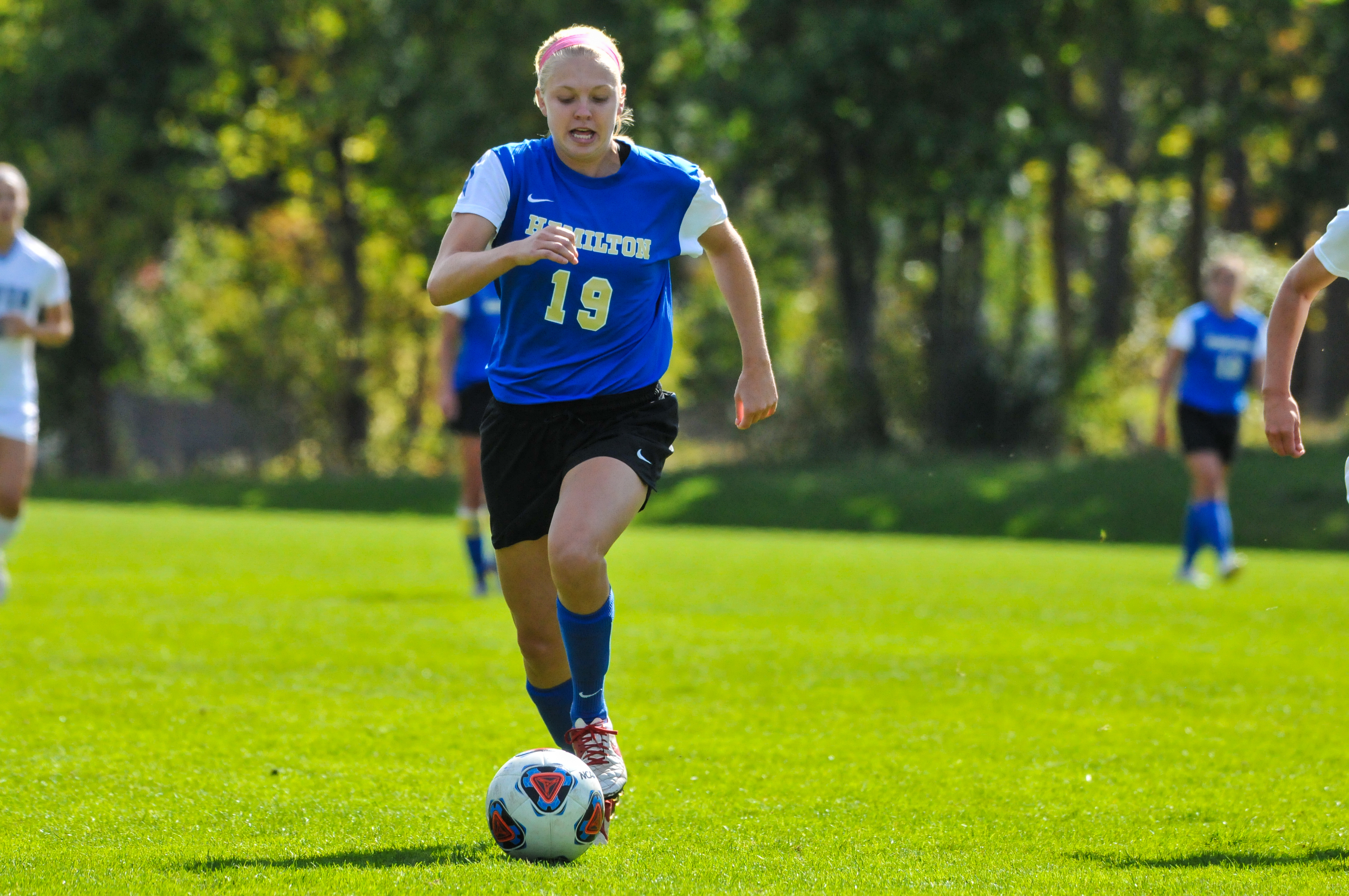 The Hamilton College women's soccer team stretched its unbeaten streak to five, playing visiting Amherst to a 1-1 tie in two overtimes Saturday in a NESCAC game at Love Field. The Continentals outshot the Lord Jeffs (ranked 19th nationally) 18-5.

Box score

Hamilton's run of five straight games without a loss (the Continentals are 3-0-2 in that span) is the program's longest since the 2012 team opened the season with five consecutive wins.

The decision marked the first time Hamilton (3-4-3, 2-3-3 NESCAC) had played a nationally ranked opponent to a regular-season tie since 2010 when the Continentals and No. 7 William Smith fought to a scoreless draw.

Ali Clarke '17 scored Hamilton's goal, taking advantage of a scramble in front of the net to send a shot to the left of Amherst goalkeeper Holly Burwick in the 19th minute.

The Lord Jeffs (6-2-1, 3-2-1) tied the score 13 minutes later on a goal by Emily Masten. An Amherst corner kick was headed to the far post where Ashlyn Heller eventually gained control and sent a cross to Masten, who headed her shot into the far corner of the net for her first goal of the year.

The goal was the first allowed by Hamilton in 328:19, ending the Continentals' longest shutout streak since the 2007 team went 382:30 without allowing a goal.

Hamilton had a pair of chances at the go-ahead goal late in the half but Amherst defender Sarah Zuckerman came up with two stellar defensive plays in the final 90 seconds. A shot by Amanda Becker '18 crossed in front of Burwick toward the net but Zuckerman kicked the ball off the line. The Continentals wound up with one of their seven corner kicks and Becca Rees' '16 effort was controlled by Darby Philbrick '18, whose shot went behind Burwick but was headed away by a diving Zuckerman.

Following Masten's goal, Hamilton nearly held the Lord Jeffs without a shot for the rest of regulation but Amherst got off a shot in the final minute.

In overtime Burwick made her biggest save in the 93rd minute, stopping a point-blank shot by Hannah Withiam '16. The Continentals were whistled for an offsides violation on the rebound to end the threat.

Hamilton is back in action Sunday, hosting SUNY Polytechnic in a non-league game at 1 p.m.