Women's soccer ties SUNY Oneonta
---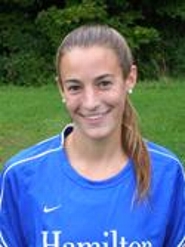 Hamilton College played 110 minutes to finish in a 2-2 tie with host SUNY Oneonta in a non-league game played at Red Dragon Soccer Field on Oct. 20.
Just six minutes, 36 seconds into the first half, Anne Graveley '11 put Hamilton (6-5-1 overall) on the scoreboard first with her seventh goal of the season. Graveley received a pass sent over the defense by Megan Cairns '12, and sent a low shot into the left corner of the goal.
Alex Rimmer '13 put the Continentals up 2-0 in the 31st minute when she fired a shot into the upper right corner of the net from about 25 yards out. Rimmer leads Hamilton with nine goals this season.
SUNY Oneonta (10-2-3) fought back with its first goal in the 81st minute off a corner kick. The Red Dragons tied up the score 1:05 later and sent the game into overtime.
Neither team was able to score through two 10-minute overtime periods. Rimmer and Graveley came close to breaking the tie in the 102nd and 104th minutes, respectively, but both fired shots wide of the goal.
Kate Fowler '10 played all 110 minutes and finished with seven saves, three of which were made during overtime. Oneonta held an advantage in shots, 19-12. The Red Dragons also led in corners with 11 while Hamilton had two.
The Continentals return to action on Saturday, Oct. 24, when they host Union College for a Liberty League game at 3 p.m.