Women's soccer travels to Brazil
---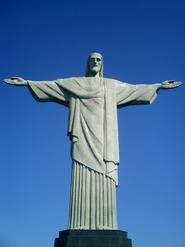 The Hamilton College women's soccer team -- NCAA tournament quarterfinalists in 2007 -- will be in Brazil for 10 days in August to train for the upcoming season.
The team arrives in Rio de Janiero on Friday, Aug. 7, and will stay in the resort town of Búzios. The trip includes five training sessions, matches against three opponents, a Brazilian National League contest, sailing and plenty of sightseeing.
On Thursday, Aug. 13, Hamilton will conduct a clinic and train with Cepe Caxias, which is recognized as one of the top three teams in the nation. Several players from the Brazilian National Team are also scheduled to attend the clinic. Hamilton and Cepe Caxias play each other on Aug. 15.
The athletes will have another busy day on Aug. 14. A trip to the Christ the Redeemer statue in Rio is scheduled for the morning. The team plays Copacabana Beach Soccer Team at Copacabana Beach that evening.
The Continentals open their eighth season with head coach Colette Gilligan at home against Massachusetts College of Liberal Arts on Saturday, Sept. 5, at 2 p.m.