Women's soccer wins opener in dramatic fashion
---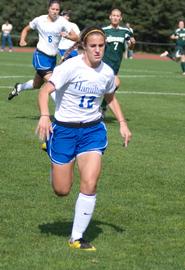 Hannah Nekoroski '15 scored her first collegiate goal with 3:30 left in the second sudden-victory overtime period to lift Hamilton College to a 3-2 win against SUNY Oswego in non-conference action at Oswego's Laker Field on Sept. 6.

Alex Rimmer '13 scored the 24th goal of her career for Hamilton. Charlotte Cosgrove '13 scored her first collegiate goal midway through the second half. Lauren Brady '14 and Emi Birch '14 were credited with assists.

Liza Gergenti '14 started in goal and stopped both shots she faced in the first half. Melanie Miller '15 replaced Gergenti and made two saves in the final 61:30. The Continentals were playing their 2011 opener.

The play that led to Nekeroski's game-winning goal started with a shot by Birch that deflected off the crossbar. The ball landed at Nekeroski's feet and she buried the rebound chance. Hamilton enjoyed a 20-11 advantage in shots.

Trailing 2-0 with less than 20 minutes remaining in regulation, the Lakers received goals from Nikki Liadka and Kassie Kleine in a span of 62 seconds to tie the score.

Oswego (2-1-0 overall) got on the board at 71:17 when Liadka blasted a shot from 20 yards out that ricocheted off the crossbar before the ball spun back into the net past Miller. The goal was Liadka's sixth in three games. Raquel Vescio was credited with the assist.

Kleine's second goal of the season at 72:19 tied the score. Carly Olds set up the play with a service into the box to Kleine in front of the net on the right side. Kleine connected on the pass and beat Miller on the near-side post.

The Lakers thought they had won in the early moments of double overtime when Liz Conrad appeared to have scored on a pass from Liadka, but Conrad was ruled offside by the side judge.

The Lakers had a number of scoring opportunities in the first half, but it was the Continentals that capitalized on their opportunities. Rimmer scored at 32:51 on a shot from 20 yards out placed over the head of the Oswego keeper.

Hamilton took a two-goal lead with 21:08 remaining in regulation when Cosgrove scored on a shot from 22 yards out that again went over the keeper's head near the far-side post.

Rimmer nearly had the game-winning goal with less than five minutes remaining in regulation, but her shot from inside the box sailed just high of the goal. Hamilton also nearly decided the game in the first overtime. A shot went through the keeper's hands in traffic, but before the ball could fully slide across the goal line, the Laker defense was able to clear the ball out of the box. Emily Varonier finished the game with seven saves in a losing effort.