Women's soccer wins thriller in double overtime
---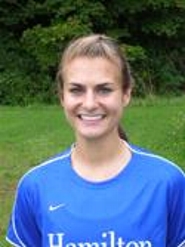 Laura Brandimarte '11 scored her first goal this season with 5:41 left in the second sudden-victory overtime period to lift Hamilton College to a 1-0 win against visiting St. Lawrence University in a Liberty League game played at Love Field on Oct. 10.

Hamilton (6-4-0 overall, 3-2 Liberty) improved to 4-1-0 at home and has outscored opponents 11-1 at Love Field. St. Lawrence (6-5-3, 1-3-1) played its second double overtime game in as many days. The Continentals are now 1-2-0 in overtime games. Hamilton is 5-0-2 in its last seven meetings with the Saints.

Brandimarte gained possession of the ball about 35 yards from the goal midway through the second overtime. She dribbled the ball off a St. Lawrence defender and maintained possession going forward. Before another defender could reach her, Brandimarte unleashed a hard shot from 25 yards away that sailed over the Saints goalkeeper and settled into the top right-hand corner of the net.

Kate Fowler '10 made six stops, including five in the second half, to help the Continentals post their second shutout this weekend.

Both teams just missed on opportunities to score a goal in the first half. Hamilton's Anne Graveley '11 took a shot from in close that was kicked away at the goal line by a defender. St. Lawrence hammered a shot off the cross bar that bounced right back into Fowler's arms. The Continentals enjoyed a 26-12 shot advantage.

Hamilton travels to Utica College for a non-league game on Wednesday, Oct. 14.