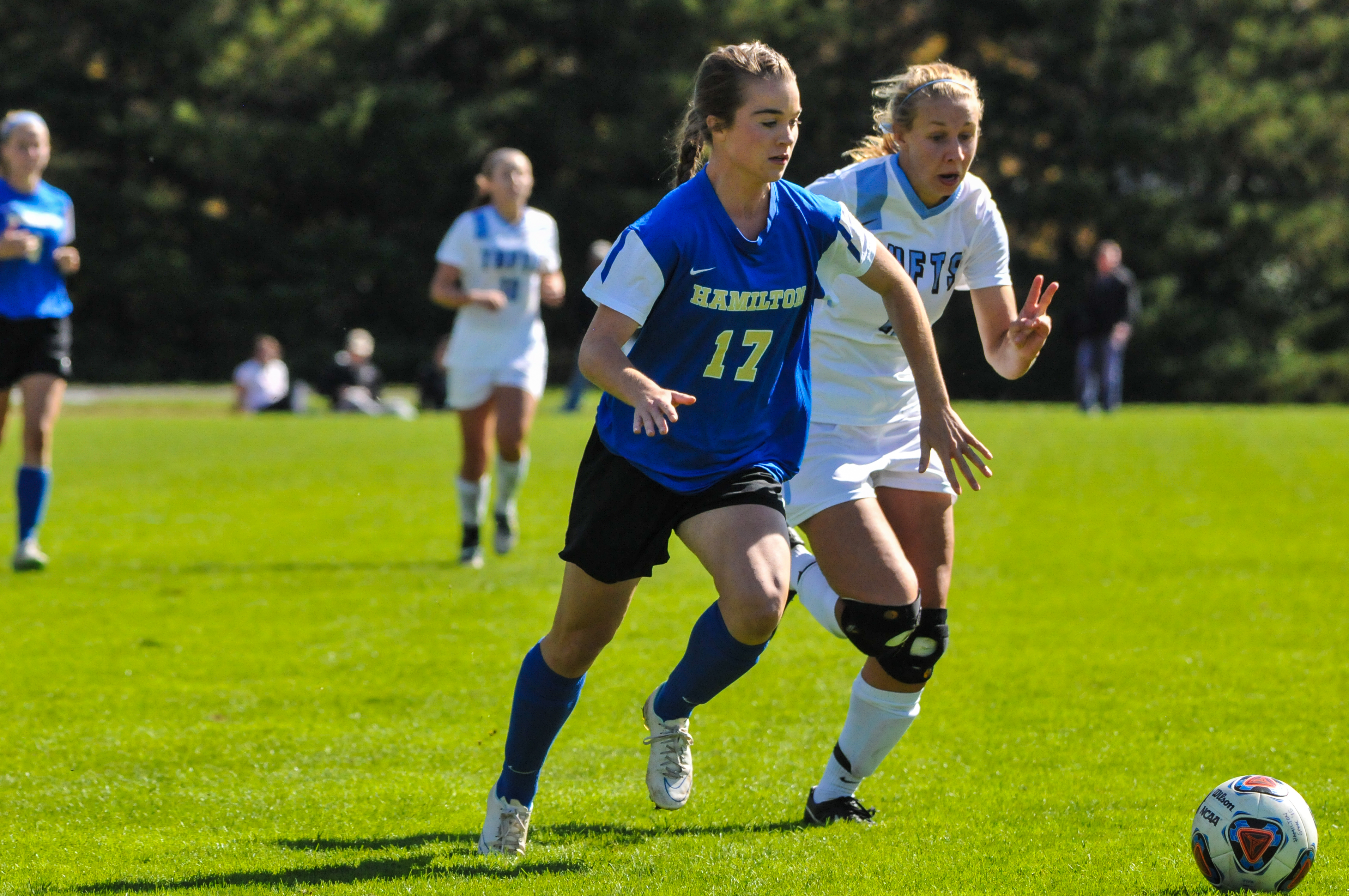 The Hamilton College women's soccer team's six-game unbeaten streak ended with a 2-1 overtime loss at NESCAC rival Bowdoin Saturday afternoon. The host Polar Bears scored four minutes into the extra session.

Box score

The Continentals, who had not lost a game since Sept. 20, outshot Bowdoin 22-17 and put a pair of shots on goal in overtime before the Polar Bears (6-4-1, 4-3-0 NESCAC) put in the game winner.

Hamilton's undefeated string had been the longest for the program since the 2010 team recorded a 4-0-2 stretch en route to the NCAA playoffs.

The hosts scored in the 11th minute to take a 1-0 lead and nearly carried that advantage into halftime but Darby Philbrick '18 tied the score just 41 seconds before intermission.

Katja Dunlap '18 served a ball from the left side over the head of Bowdoin's defense into the box, giving Philbrick an uncontested look at the Polar Bear goal. Philbrick popped her shot over Bowdoin goalkeeper Bridget McCarthy.

Philbrick's goal was her fourth of the season, tying her for the team lead. Dunlap picked up her third assist of the fall.

McCarthy and Hamilton's Rachel Cooley '18 both made six saves after halftime. Cooley recorded six of her seven stops in the second half and McCarthy stopped four second-half shots and both Hamilton overtime attempts.

McCarthy stymied Hannah Withiam '16 and Amanda Becker '18 in overtime to set up the game-winning goal.

Jamie Hofstetter -- who scored Bowdoin's first goal -- set up the game winner for Julia Patterson. Hofstetter collected the ball in the midfield and slid a leading pass to her right that Patterson ran onto before cutting back to her left to shake a defender and sending a shot inside the far post.

Hofstetter scored off a Taylor Haist corner kick 10:06 into the contest. Haist's corner kick was lofted high into the box and deflected off a Hamilton defender then bounced in front of Hofstetter, who turned on the bouncing ball and sent a shot high into the crossbar and back into the net.

Hamilton nearly came away with the victory in the final seconds of regulation as a shot by Becca Rees '16 deflected off the crossbar and over the net.

The Continentals play a noon game at Plymouth State Sunday.