Women's squash bounces Bowdoin at Yale
---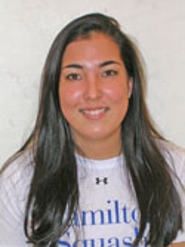 Hamilton College defeated Bowdoin College 7-2 in a match played at Yale University in New Haven, Conn., on Jan. 13.

Hamilton (1-2 overall) was playing its first match since Nov. 19. The Continentals are 18th in the latest College Squash Association rankings and Bowdoin is 19th.

Alyssa Bawden '12 won 11-7 in the fourth game and 11-6 in the fifth for a come-from-behind victory at the third position. Claire Corroon '13 was a four-game winner at the fourth position in her first match this season.

Elizabeth Morris '15, who was playing her first match at Hamilton, won the first game 13-11 at the eighth position, and triumphed 11-8 in the second. Morris shook off the disappointment of a 14-12 loss in the third game by defeating her opponent 11-7 in the decisive fourth game.

Kelsey Bogle '14 and Hannah Coffin '14 captured wins in four games at the fifth and sixth positions, respectively. Isabelle Weisman '15 recorded her first collegiate victory with a three-game sweep at the seventh position. Hillary Kolodner '14 posted a win in three games at the ninth position.

The Continentals play Colby College and Amherst College at Amherst on Friday, Jan. 20.