Women's squash breezes to pair of wins
---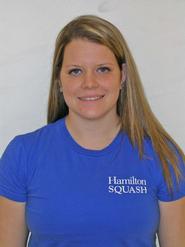 Hamilton College breezed to victories against William Smith College and St. Lawrence University at the Little Squash Center on Feb. 7.
Hamilton (12-7 overall) is 15th in the most recent College Squash Association (CSA) team rankings. The Continentals defeated No. 23 William Smith 8-1, and blanked No. 24 St. Lawrence 9-0.
Kelly Whipple '10 won her seventh match this season at first position with a three-game sweep against William Smith, but did not play against St. Lawrence due to illness. Krissy Rubin '10 evened her record at 9-9 with two wins near the top of the ladder.
Anne Edelstein '11, Madeleine Sullivan '09 and Jane Hannon '11 all improved their records to 13-5. They are tied for the team lead with those 13 wins. Bailey Harris '09 is next with 12 victories.
Leila Clifford '11 moved her record to 9-8 with a three-game win at second position against St. Lawrence. Danielle Forsyth '11 is now 10-6 and Ashley Pardoe '09 remained perfect on the season at 3-0.
Courtney Kollmer '10 won her 30th career match with a four-game victory at fifth position against William Smith. Kollmer's career record is 31-18.
The Continentals travel to Harvard University for the CSA team championships on Friday, Feb. 13. The event lasts through Sunday.