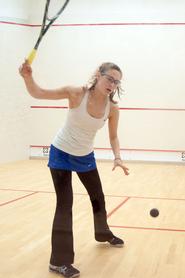 All nine Hamilton College players swept their William Smith College opponents in three straight games and the Continentals posted a 9-0 win at William Smith's Smith Squash Center on Tuesday night.

Results

Hamilton (11-5 overall) is 18th in the most recent College Squash Association team rankings. The Herons (10-4) are at No. 25.

Hilary Gray '15 prevailed at the first position for the 39th win of her career with the Continentals. Rachel Newman '16, who was selected the NESCAC Women's Squash Player of the Week on Monday, allowed just nine points in her victory at the second position.

Elizabeth Morris '15 picked up the 45th win of her Hamilton career with her triumph at the third position. Lindsay Arader '16 moved up to the fourth position for the sixth time this season and was an easy winner.

Rafiatou Ouro-Aguy '18 and Haley Connor '18 posted wins at the fifth and sixth positions, respectively. Both players are 12-4 this season.

Grace Munschauer '18 surrendered just nine points at the seventh position, Marina Hartnick '18 shut out her opponent in the second game at the eighth position and Katherine Bauer '18 marked her return to the lineup with a win at the ninth position.

The Continentals compete in the 2015 NESCAC Women's Squash Championship at Williams College from Feb. 6 to Feb. 8.