Women's squash breezes to win over St. Lawrence
---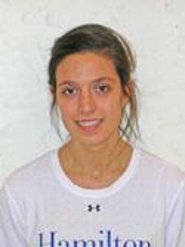 Hamilton College defeated host St. Lawrence University, 9-0, in a dominating performance in Canton, N.Y., on Jan. 30.
The Continentals (11-3 overall) are No. 15 in the most recent College Squash Association rankings, while St. Lawrence is No. 22.
Kelly Whipple '10, Amanda Thorman '13, Claire Corroon '13, Kristen Rubin '10, Anne Edelstein '11, Alexis Lee '13 and Nina Platt '10 all defeated their opponents in three straight games at the first, second, fourth, sixth, seventh, eighth and ninth positions, respectively.
Alyssa Bawden '12 won her eighth match of the season as she defeated her opponent in four games at the third position. Bawden won the first two games, 11-4 and 11-8, and then dropped the third, 11-6. However, she rallied to win the final game 11-6.

Courtney Kollmer '10 played at the fifth position and also won her match in four games by scores of 11-8, 12-10, 8-11 and 11-4. Kollmer improved her season record to 11-3.
The Continentals return to action on Monday, Feb. 1, when they host Middlebury College.