Women's squash competes in team championships
---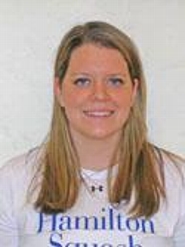 Hamilton College earned one win at the 2010 College Squash Association team championships at Yale University and Choate Rosemary Hall in Connecticut from Feb. 26 to Feb. 28.
Hamilton (15-8 overall) entered the weekend at No. 15 in the CSA rankings. The 15 victories this season are the second-highest total in program history. In 1992-93, the Continentals set the wins record with 18.

On Friday, the Continentals lost 8-1 to No. 10 Brown University in the first Kurtz Cup ("B" Division) match of the team championships at Yale. On Saturday in a consolation bracket match at Yale, Hamilton was defeated 6-3 by No. 14 Amherst College. The Continentals earned a 6-3 win over No. 16 Colby College in a 15th-16th place match at Choate Rosemary Hall in Wallingford on Sunday morning.
Against Brown, Kelly Whipple '10 earned the lone win for Hamilton at the first position. Whipple defeated her opponent in three straight games by scores of 11-9, 11-9 and 11-9. It was her 13th win this season.
On Saturday against Amherst, Amanda Thorman '13 earned a four-game win at the second position (11-6, 11-9, 10-12, 11-8). Claire Corroon '13 won her match by default at the third position. At the fifth spot, Krissy Rubin '10 won a close match in five games (12-10, 6-11, 9-11, 11-9, 11-7). Whipple and Annabel Prouty '13 both played to five games, but lost.
On Sunday in the win over Colby, Rubin and Nina Platt '10 earned four-game wins at the fifth and eighth positions, respectively. At the seventh position, Alexis Lee '13 swept her opponent in three games.

Corroon earned a 3-2 win at the third position. She lost her first two games, 11-5 and 11-4, but rallied to win the last three, 11-4, 15-13 and 11-9. Courtney Kollmer '10 earned her 15th win of the season in five games at the fourth position by scores of 12-10, 11-7, 10-12, 7-11 and 12-10.
A couple Hamilton players will compete in the 2010 College Squash Association individual championships at Trinity College from March 5 to March 7.