Women's squash completes perfect weekend
---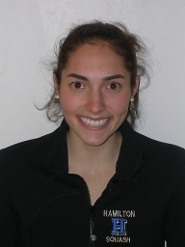 The Hamilton College Continentals won all four of the matches they played at Mount Holyoke College and Amherst College on Jan. 17 and 18.

Mount Holyoke Results
F&M Results
Colby Results
Conn. College Results

Hamilton (8-3 overall), which is No. 16 in the Jan. 12 College Squash Association rankings, started the weekend with an 8-1 win against No. 21 Mount Holyoke on Friday afternoon. The Continentals' other three matches were played at Amherst. Hamilton knocked off No. 13 Franklin & Marshall College 5-4 on Friday night, breezed to an 8-1 victory against No. 24 Colby College on Saturday afternoon and cruised to a 9-0 triumph against No. 26 Conn. College later that evening.

Rachel Newman '16 (second position), Hannah Coffin '14 (fourth), Elizabeth Morris '15 (fifth), Lindsay Arader '16 (sixth) and Kelsey Bogle '14 posted 4-0 records on Friday and Saturday. Bogle won two matches at the eighth position and two more at the ninth position. Morris clinched the upset of Franklin & Marshall with a four-game win that she closed out by a 15-13 score in the fourth game.

Hillary Kolodner '14 recorded two wins at the eighth position and another against Colby at the seventh position. Hilary Gray '15 won both of her Saturday matches at the first position. Lillie Simourian '17 and Isabelle Weisman '15 defeated their Mount Holyoke and Conn. College opponents at the third and seventh positions, respectively. Katherine Rogers '14 picked up a victory at the ninth position against Colby.

The Continentals travel to Yale University to take on Bowdoin College on Sunday, Jan. 26, at 1:30 p.m.