Women's squash defeats three NESCAC opponents in one weekend
---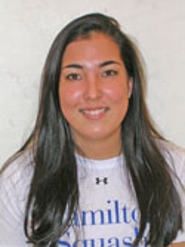 Hamilton College split six matches played at Amherst College, Mount Holyoke College and Hamilton College from Jan. 20 to Jan. 22.

Hamilton (4-5 overall) is ranked 18th by the College Squash Association. The Continentals defeated No. 15 Amherst 6-3, and No. 22 Colby College 8-1 in Amherst, Mass., on Friday night.

On Saturday, Hamilton lost 6-3 at No. 13 Mount Holyoke in South Hadley, Mass., before rebounding to defeat No. 20 Wesleyan University 8-1 at Amherst. The Continentals wrapped up the weekend with a 7-2 loss to No. 9 Bates College, and a 9-0 loss to No. 7 Cornell University at the Little Squash Center on Sunday.

Alyssa Bawden '12 finished the weekend with a 5-1 record at the fourth position to raise her career total to 23 wins. Bawden cruised to a 3-0 win against Amherst before winning a four-game match against Colby on Friday. On Saturday, she outlasted her opponent from Mount Holyoke, winning the fifth game 11-8 to seal the 3-2 win. Bawden picked up a win against Bates when her opponent retired after the second game.

Elizabeth Morris '15 also posted a 5-1 record in six matches at the eighth position. Morris battled to a five-game win against Amherst, taking the final game by a score of 13-11 to secure the victory. Isabelle Weisman '15 tallied four wins at the seventh position on Friday and Saturday.

Amanda Thorman '13 notched victories at the first position against Amherst and Wesleyan. She has 26 wins in her Hamilton career. Hilary Gray '15 cruised to 3-0 victories at the second position against Colby and Wesleyan. Claire Corroon '13 posted two wins at the third position to bring her career total to 29. Corroon won 11-7 in the fourth game and 11-8 in the fifth to seal a come-from-behind victory against Colby.

Hannah Coffin '14 posted 3-0 wins against Colby and Wesleyan. Kelsey Bogle '14 and Laura Russell '14 earned wins against Amherst, Colby and Wesleyan at the sixth and ninth positions, respectively.

Hamilton travels to St. Lawrence University for a match on Thursday, Jan. 26, at 6 p.m.