Women's squash defeats two NESCAC opponents
---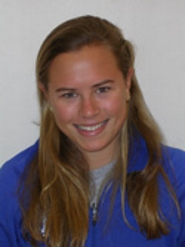 Hamilton College won two of three matches against New England Small College Athletic Conference teams on Jan. 21 and 22.

Hamilton (5-4 overall) defeated Colby College 7-2 on Friday at Yale University in New Haven, Conn. The Continentals are ranked 17th by the College Squash Association, and Colby is 20th. Hamilton lost 9-0 at No. 12 Amherst College on Saturday morning, and breezed to an 8-1 victory against No. 23 Tufts University at Amherst on Saturday afternoon.

Six players won two matches during the weekend. Kelsey Bogle '14 led the half-dozen at the fourth position. Danielle Forsyth '11 (fifth), Hannah Coffin '14 (sixth), Alexis Lee '13 (seventh), Hillary Kolodner '14 (eighth) and Laura Russell '14 (ninth) were the others.

All seven winners against Colby won in three games except for Leila Clifford-Ong '11, who prevailed in four at the third position. Every win against Tufts, including Amanda Thorman '13 at the first position and Claire Corroon '13 at second, was in three straight games.

The Continentals travel to William Smith College for a single match on Friday, Jan. 28.