Women's squash defeats two NESCAC opponents in weekend split
---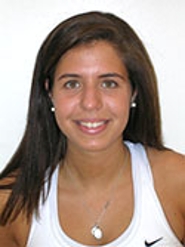 Hamilton College split four matches at Yale University, Amherst College and Connecticut College from Jan. 18 to Jan. 20.

The Continentals (3-6 overall), who are ranked 16th by the College Squash Association, opened the weekend with a 9-0 win over No. 21 Colby College at Yale in New Haven, Conn., on Friday night. Hamilton lost to No. 18 Amherst and No. 2 Harvard University by identical 9-0 scores on Saturday. The Continentals wrapped up the weekend with a 9-0 victory at No. 28 Conn. College on Sunday afternoon.

Isabelle Weisman '15 posted three wins at the sixth position. Weisman's victories against Colby and Conn. College were in three straight games, and she picked up the lone win against Amherst in four games.

Amanda Thorman '13, Hilary Gray '13, Claire Corroon '13 and Elizabeth Morris '15 earned two wins at the first through fourth positions, respectively. Thorman, Gray and Morris outlasted their Colby opponents in five games, and defeated their Conn. College opponents in three straight. Corroon needed five games in her win against Colby and four against Conn. College. She has 38 career victories, which puts her in a tie for seventh place in program history.

Hannah Coffin '14, Kelsey Bogle '14 and Hillary Kolodner '14 also picked up two wins each. Coffin won in four games against Colby at the fifth position and Bogle defeated her Colby counterpart in five games at the seventh position. Both needed just three games to pick up wins against Conn. College. Kolodner won at the ninth spot against Colby and at the eighth position against Conn. College -- both in three straight games.

Lindsay Arader '16 and Alexis Lee '13 recorded one win apiece during the weekend. Arader won in three straight games at the eighth position against Colby, and Lee prevailed in the fourth and fifth games at the ninth position against her Conn. College opponent.

Hamilton returns home to the Little Squash Center for matches on Saturday and Sunday, Jan. 26 and 27. The opponents are Franklin & Marshall College, Northeastern University and Mount Holyoke College.