Women's squash defeats William Smith
---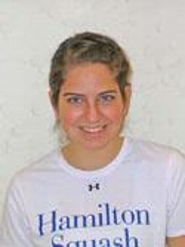 Hamilton College routed William Smith College 9-0 in a match played at Hamilton's Little Squash Center on Feb. 13.
The Continentals (14-6 overall) were No. 15 in the most recent College Squash Association rankings, while the Herons were 24th.
Hamilton held William Smith (7-8) winless at seven spots. Kelly Whipple '10, Amanda Thorman '13, Claire Corroon '13, Courtney Kollmer '10, Krissy Rubin '10, Anne Edelstein '11 and Alexis Lee '13 all defeated their opponents in three straight games at the first, second and fourth through eighth positions, respectively.
Alyssa Bawden '12 rallied to win her 11th match of the season in five games at the third position. Bawden lost the first two games 11-9 and 11-8, and then won the next three, 11-7, 11-7 and 11-4. Nina Platt '10 secured a four-game victory at the ninth position by scores of 11-6, 11-7, 9-11 and 11-5. The win marked the 45th of Platt's career.
The Continentals next compete in the Howe Cup at Yale University on Friday, Feb. 26.