Women's squash falls to Middlebury
---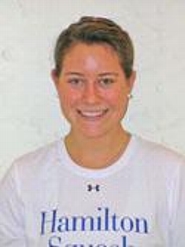 Hamilton College fell 7-2 to visiting Middlebury College in a match played at the Little Squash Center on Feb. 1.
The Continentals (11-4 overall) are 15th in the most recent College Squash Association rankings, while Middlebury (18-5) is 13th. Hamilton plays Connecticut College in the first round of the NESCAC championships at Trinity College on Friday, Feb. 5, at 7 p.m.
Kelly Whipple '10 earned a 3-0 win for the Continentals at the first position. Whipple defeated her opponent by scores of 11-5, 11-3 and 11-6, and improved her season record to 10-4.
At the fourth position, Claire Corroon '13 rallied for a close five-game victory. Corroon won the opening game 11-4, and then fell in the next two, 11-8 and 11-6. She stepped up to defeat her opponent 11-3 and 11-8 in the final two games. She improved her season record to 13-2.