Women's squash player honored by NESCAC
---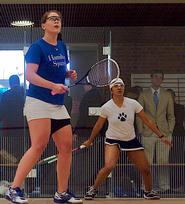 Hamilton College's Kelly Whipple '10 (Rye, N.Y./Convent of the Sacred Heart [Conn.]) has been selected to the 2010 New England Small College Athletic Conference women's squash all-conference team.
Whipple played 22 matches at first position this season and finished with a record of 15-11, including 6-7 against NESCAC opponents. She played four matches in the College Squash Association individual championships at the end of the season. Her 15 victories tied for the second-highest total on the team.
Whipple made the NESCAC all-conference team for the third time in her Hamilton career. She was on the first team last season as a junior. Whipple won 43 matches in four seasons.
Hamilton (15-8 overall) took sixth place at the 2010 NESCAC championships and ended up 15th in the final CSA national rankings after winning one of three matches at the 2010 CSA team championships. The 15 wins is second in program history only to the 18 matches the 1992-93 team won.