Women's squash is runner-up at team championships
---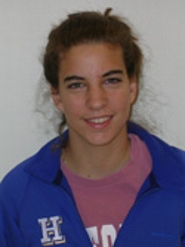 Hamilton College finished runners-up in the Walker Cup (C Division) at the 2011 College Squash Association (CSA) women's team championship, which was held at Princeton University from Feb. 18 to Feb. 20.

Hamilton (13-10 overall) entered the weekend ranked 18th by the CSA, and second in the Walker Cup (C Division). The Continentals cruised to an 8-1 win against No. 23 William Smith College in the quarterfinals on Friday morning, and defeated No. 19 Wesleyan University 6-3 in the semifinals on Saturday.

In the Walker Cup final on Sunday, No. 17 Franklin & Marshall College edged Hamilton 5-4. The Continentals lost to F&M by the same score at the Little Squash Center back on Dec. 5, 2010.

Hannah Coffin '14 and Anne Edelstein '11 won all three of their matches. Coffin improved her record to 10-5, while Edelstein leads the team with 16 wins.

Against William Smith, all eight Hamilton wins were in three straight games. Wesleyan was a much tougher match as only Coffin at the sixth position and Laura Russell '14 at the ninth position won in three games. Amanda Thorman '13 (first position), Leila Clifford-Ong '11 (third position) and Edelstein (eighth position) prevailed in four games. Hillary Kolodner '14 outlasted her opponent in five games at the seventh position.

In the finals, Danielle Forsyth '11 (fourth position), Coffin and Russell swept their opponents. Russell finished the season with a 15-5 record. Edelstein won in four games, and ended up 16-7.

The Franklin & Marshall match signaled the end of college careers for Clifford-Ong, Edelstein and Forsyth. Edelstein finished No. 1 on the program's all-time wins list with 57. Forsyth ended up with 36, and Clifford-Ong had 29.

A couple Hamilton players will compete in the CSA individual championships at Dartmouth College from Friday through Sunday, March 4 to March 6.