Women's squash opens season with two wins
---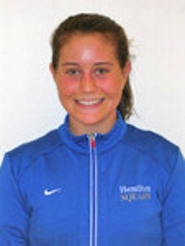 Hamilton College posted a 2-0 record this weekend with wins against Bowdoin College at Harvard University, and at Northeastern University on Nov. 21 and 22, respectively.
Hamilton -- 14th in the latest College Squash Association team rankings -- started off its season with a 9-0 win against No. 16 Bowdoin on Saturday. The Continentals secured another 9-0 win over No. 25 Northeastern on Sunday.
Alyssa Bawden '12 and Courtney Kollmer '10 both won hard-fought matches in five games against Northeastern. Bawden posted scores of 4-11, 11-8, 10-12, 11-4 and 11-2 at the third position. She defeated her Bowdoin opponent in four games on Saturday.
Kollmer played at the fourth position and recorded scores of 7-11, 11-7, 11-5, 7-11 and 11-7 against Northeastern. She swept her Bowdoin opponent the previous day in three games.
Kelly Whipple '10, Amanda Thorman '13, Claire Corroon '13, Nina Platt '10, Alexis Lee '13 and Annabel Prouty '13 swept both their opponents in three straight games at the first, second, fifth, seventh, eighth and ninth positions, respectively. Anne Edelstein '11 swept her Bowdoin opponent at the sixth position, and won in four games against Northeastern.
The Continentals return to action on Dec. 5 and 6, when they host the Hamilton Invitational at the Little Squash Center.